EDBF Convention 2017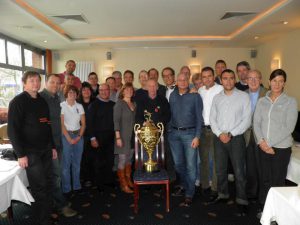 The EDBF will convene in Belgrade, Serbia from 24-26 November.
Dear Delegates
I am delighted to advise that the following people will be attending the 
EDBF
Convention
 in Belgrade, 
Serbia
 on 25th & 26th November 2017. I am sure you will agree this is an excellent turn out of nations which means we will be able to hear the views and gain ideas from a wide range of people in our sport.
Attendees
Mike Haslam – 
EDBF
 Honorary President
Alan van Caubergh – 
EDBF
 President
Claudio Schermi – 
EDBF
 President Elect
Ute Becker – 
EDBF
 Vice President
Kim Beckwith – 
EDBF
 Vice President
Peter Jarosi – 
EDBF
 Vice President
Natalia Kravtsova – 
EDBF
 Treasurer
Maura Dezi – 
EDBF
 Treasurer Elect
Julie Doyle – 
EDBF
 Secretary General
Mike Thomas – IDBF President
Slawek Borucki – IDBF/
EDBF
 IT Technical Expert
Antonio De Lucia – 
EDBF
 Medical Commission/Italy
Saed Abdalla – 
EDBF
 ComSpec Commission
Sue Menzies – 
EDBF
 Junior Commission
Michael Doyle – Ireland
Csenge Bathorry-Bozo – Hungary
Gitta Weberi – Germany
Thomas Arbeiter – Germany
Arild Jorskar – Norway
Robin Magnusson – Sweden
Vitaly Smirnov – Russia
Andrew Menzies – Great Britain
Valerie Morgun – Ukraine
Adrian Dyer – Cyprus
Makar Sargsyan – Armenia
Enric Sanchez – Spain
Zoran Vukobratovic – 
Serbia
Claude Dorhlac – France
Oleksandr Bakanychev
Leila Ataei
Agenda
Please see the attached agenda.
Accommodation
We are staying at:
INHotel – Belgrade
Address: 56, Arsenija Carnojevica Blvd, 11070 New Belgrade, 

Serbia


Reception: +381 11 310 53 00
I look forward to meeting you all again.
Julie Doyle – Secretary General
European Dragon Boat Federation